Plasma HDTV
The new generation of HDTV's in Plasma and LCD formats offer the ultimate viewing experience. Learn how to get the most from your Plasma HDTV experience at Cahners Electronics!
A BIT OF PLASMA HISTORY



Plasma screens first entered the US market towards the end of 1999, but the concept has been around since July of 1964 at the University of Illinois. The first displays were nothing more than points of light created in laboratory experiments. The technology was developed and improved, and by the late 60's, it had become advanced enough to allow the scientists to construct geometric shapes.



Today the progression in high speed digital processing, materials, and advanced manufacturing technology has made full color, bright plasma displays possible.

Digital television is now a reality -- but you're not going to see it the way it was meant to be seen using yesterday's TV sets. Today, we're in the midst of a digital video revolution, thanks to HDTV, DTV, DVD-Video, digital satellite broadcasts and computer video. Plasma display technology is one way to fully enjoy the dramatically improved image quality of all these digital video sources.

This first step is a brief guide about plasma technology starting with the history and leading into the main benefits and advantages of plasma technology.

If you are already familiar with this information or would prefer to skip it for now, you can follow the link at the bottom of the page to the next section, which discusses which size screen you should consider for your application.


50" XBR Plasma WEGA® TV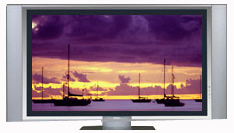 Elegant, floating glass panel design enhances any living space. Stunning picture enhancement with Sony WEGA Engine® System. Direct Digital Circuitry for natural, rich image from any source. Enjoy amazing picture Resolution with Digital Reality Creation®. Scale the size of side-by-side P&P windows with MID®X circuitry. Movies will always look their best with CineMotion® technology. i.LINK® input provides access of hi-def content from D-VHS. Get deeper blacks and better depth with Sony's Plasma Panel Driver LSI. View Digital images on your TV with Memory Stick?media. Installation flexibility with Sony's 2-piece plasma design. Built-in ATSC tuner/QAM brings you all the glory of Hi-Def broadcast . Detachable speakers let you customize your space.