Choosing a Plasma TV by Tom Ace



You've finally made up your mind to buy a plasma TV. You dream of watching your favorite television shows in full stereo, with sharp, crisp picture resolution. But how do you go about finding your dream TV? Here are a few tips that will help you get started.

The first thing that you should do is to decide on the size of the television monitor you want. Generally speaking, plasma TVs begin at around 32" and go as large as 63". The most common screen sizes are usually 32", 42", 50" and 61". So, measure the area where you want to place your TV to get an idea of which size would be most practical for you. It's important to remember that most plasma TVs have detachable speakers, so you will need to allow for a few extra inches on either side of where the screen will be.

You may well have the option to buy extra slim speakers, which attach directly to the monitor, if you don't want to use your own or an additional sound system, with surround sound. It is important to check that the model TV that you want to purchase has built-in amplifiers, or you will have to purchase or use an external receiver.

Once you've ironed out the size and type of sound system you want, you will have to consider the various mounting options that are available. The most common way to mount your new TV is with what is known as flat wall mounts. This is usually the cheapest option and places the plasma monitor almost flat against the wall. Another popular mounting system for plasma TVs is the Tilt Wall Mounting system. This allows the monitor to tilt away from the wall up to 15°. If you don't want to have the monitor tilted, you can opt for a simple table stand. This is ideal for the smaller monitors, allowing it to be used in boardrooms for video conference calls or in your living room.

There are many factors to consider, when buying your plasma TV. However, if you plan carefully, you should enjoy your new home entertainment center for years to come.

About the Author
Tom Ace is the founder of Plasma tv Resources a website providing information on plasma televisions.

61" XBR?Plasma WEGA?TV, KDE61XBR950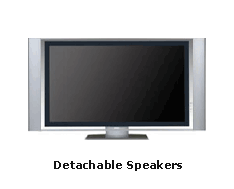 Elegant, floating glass panel design enhances any living space. Stunning picture enhancement with Sony WEGA Engine® System. Direct Digital Circuitry for natural, rich image from any source. Enjoy amazing picture Resolution with Digital Reality Creation®. Scale the size of side-by-side P&P windows with MID®X circuitry. Movies will always look their best with CineMotion® technology. i.LINK® input provides access of hi-def content from D-VHS. Get deeper blacks and better depth with Sony's Plasma Panel Driver LSI. View Digital images on your TV with Memory Stick?media. Installation flexibility with Sony's 2-piece plasma design. Built-in ATSC tuner/QAM brings you all the glory of Hi-Def broadcast . Detachable speakers let you customize your space.